William P. Gallagher
William P. Gallagher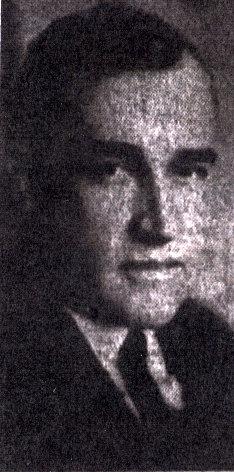 Photo credit:
"Chief Clerk of House Dies at Hospital." Wilkes-Barre Times Leader [Leader Pub. Co.] 26 May 1938, 3.
Biography
06/26/1882 - 05/25/1938
GALLAGHER, William Paul, a Clerk from Luzerne County; born, June 26, 1882 in Plymouth, Luzerne County, Pa.; attended, Bloomsburg Literary Institute and Normal School (now, Commonwealth University of Pennsylvania); graduated, Wharton School of Business, University of Pennsylvania; school teacher; reporter, assistant city editor, Wilkes-Barre Leader; court and politics reporter, Wilkes-Barre Record; publicity director, Republican State Committee (1914-1924); secretary, State Senator Sterling Catlin; postmaster, reading clerk, and assistant chief clerk, Pennsylvania Senate; elected, Chief Clerk, Pennsylvania Senate (1917-1927); president, Penn Floral Company, florists and candy merchant; special correspondent, Philadelphia Ledger; contributor, Saturday Evening Post; trustee, Bloomsburg State Teachers College (now, Bloomsburg University of Pennsylvania); trustee, College Misericordia (now, Misericordia University); elected, Chief Clerk, Pennsylvania House of Representatives (January 1, 1935-March 2, 1937, resigned and reelected, March 2, 1937-May 25, 1938); appointed, State Employees Retirement Board (1938); died, May 25, 1938 in Wilkes-Barre, Luzerne County, Pennsylvania; interred, St. Mary's Cemetery, Hanover Township, Luzerne County, Pennsylvania.