Joseph Woodring
Joseph Woodring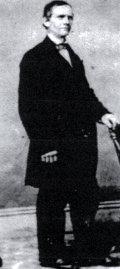 Photo credit:
Edick, La Vera. Four Score and More: My Memoir, History and a Family Legacy. Bloomington, In.:Trafford, 2013.
Sessions
Sessions
Office
Position
District
Party
1858
Representative
Democrat
1859
Representative
Democrat
Counties
Northampton
Biography
03/15/1813 - 10/01/1891
WOODRING, Joseph "Josh," a Representative from Northampton County; born, March 15, 1813 in Northampton, Northampton County, Pa.; attended, Marshall College (now, Franklin and Marshall College); private, Company K, 129th Regiment, Pennsylvania Volunteer Infantry (1862-1863, Civil War); farmer; elected as a Democrat to the Pennsylvania House of Representatives for the 1858 and 1859 terms; not a candidate for reelection to the House for the 1860 term; died, October 1, 1891 in Dauphin County, Pennsylvania; interred, Hays Cemetery, Easton, Northampton County, Pennsylvania.