Hannibal K. Sloan
Hannibal K. Sloan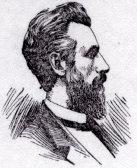 Photo credit:
"Hannibal K. Sloan is Dead." The Times [Frank McLaughlin] 12 Aug., 1894, 6.
Biography
09/04/1838 - 08/10/1894
SLOAN, Hannibal K., a Representative from Indiana and Westmoreland Counties; born, September 4, 1838 in Indiana, Indiana County, Pa.; attended, Academy of Indiana; studied law, H.W. Weir; captain, Company B, 40th Regiment, 11th Pennsylvania Volunteer Reserves (1861-1864, Civil War); brevet major, United States Volunteers (1864-1865, Civil War); laborer; lawyer; elected as a Democrat to the Pennsylvania House of Representatives for the 1871 term; not a candidate for reelection to the House for the 1872 term; elected, Pennsylvania State Senate (1889-1892); candidate, United States Congress (1894): died, August 10, 1894 in Indiana, Indiana County, Pennsylvania; interred, Saints Simon and Jude Cemetery, Blairsville, Indiana County, Pennsylvania.