Thomas H. Laidley
Thomas H. Laidley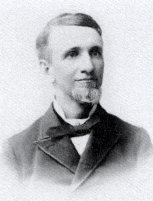 Photo credit:
Anderson, Shelly McMinn. "Find A Grave - Millions of Cemetery Records." August 17, 2019. www.findagrave.com
Biography
05/31/1837 - 04/03/1919
LAIDLEY, Thomas Hamilton, a Representative from Greene County; born, May 31, 1837 in Carmichaels, Greene County, Pa,; attended, Greene Academy; tinner (8 years); boat clerk (8 years); elected, auditor, Greene County; elected as a Democrat to the Pennsylvania House of Representatives in a Special Election, January 28, 1873; Sworn-In, February 5, 1873 and reelected to serve 1 more term thereafter; not a candidate for reelection to the House for the 1875 term; clerk, dry goods business; unsuccessful campaign, Pennsylvania State Senate (1890); engaged, real estate and insurance; died, April 3, 1919 in Pittsburgh, Allegheny County, Pennsylvania; interred, Laurel Point Cemetery, Carmichaels, Greene County, Pennsylvania.