William B. Hierlihy
William B. Hierlihy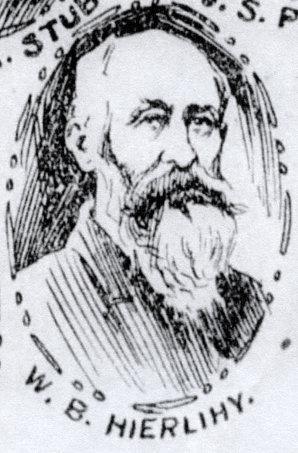 Photo credit:
"The Memorable Senate Contest of 1881." The Times [Frank McLaughlin] 25 Dec 1898, 21.
Biography
05/07/1826 - 06/04/1888
HIERLIHY, William B., a Representative from Lackawanna and Luzerne Counties; born, May 7, 1826 in Abington Township, Lackawanna County, Pa.; carpenter; farmer; engaged, lumber business; elected, justice of the peace; unsuccessful campaign, Pennsylvania House of Representatives (1871); agent, Railway Mail Service, United States Postal Service; elected, Jury Commissioner, Lackawanna County; elected as a Republican to the Pennsylvania House of Representatives in 1880; unsuccessful campaign for reelection to the House (1882, 1886); died, June 4, 1888 in Tompkinsville, Lackawanna County, Pennsylvania; interred, Scott Valley Cemetery, Montdale, Lackawanna County, Pennsylvania.