James George
James George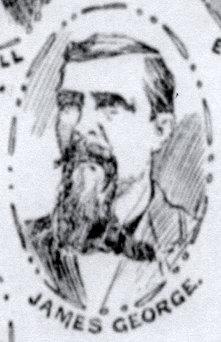 Photo credit:
"The Memorable Senate Contest of 1881." The Times [Frank McLaughlin] 25 Dec 1898, 21.
Biography
04/07/1834 - 05/01/1886
GEORGE, James, a Representative from Lackawanna and Luzerne Counties; born, April 7, 1834 in Cardiganshire, Wales; miner; elected as a Republican to the Pennsylvania House of Representatives in 1880; not a candidate for reelection to the House (1882); died, May 1, 1886 in Plymouth, Luzerne County, Pennsylvania.