Edward Marshall Craig
Edward Marshall Craig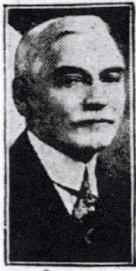 Photo credit:
"Craig Predicts Good Building in Chicagoland." Chicago Daily Tribune [Tribune Co.] 25 Feb. 1930, 26.
Biography
02/01/1860 - 01/15/1943
CRAIG, Edward Marshall, a Representative from Philadelphia County; born, February 1, 1860 in Philadelphia, Philadelphia County, Pa.; steam fitter; elected as a Republican to the Pennsylvania House of Representatives in 1888; not a candidate for reelection to the House (1890); sales representative, American Boiler Company; secretary and business manager, Building Construction Employers' Association of Chicago; president, American Construction Council; secretary, National Association of Building Trades Employers; director, National Builders Bank of Chicago; vice president, La Salle National Bank; died, January 15, 1943 in Chicago, Cook County, Illinois; interred, Rosehill Cemetery and Mausoleum, Chicago, Cook County, Illinois.