Harvey W. Haines
Harvey W. Haines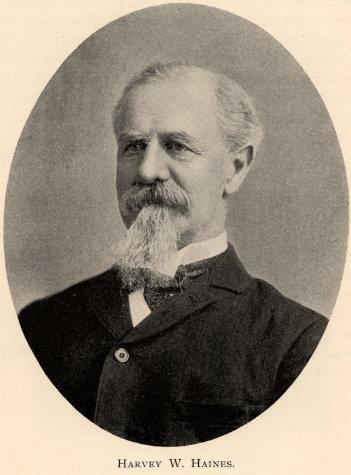 Photo credit:
McAtee, William, comp. Souvenir: Portraits and Biographies of the Members of the Legislature of Pennsylvania and Heads of Departments, Session of 1895. Harrisburg, Pa.: The Roshon Portrait Company, 1895.
Biography
10/11/1838 - 12/06/1925
HAINES, Harvey Wheeler, a Representative from York County; born, October 11, 1838 in Middletown, Columbiana County, Oh.; attended, Millersville State Normal School (now Millersville University of Pennsylvania); teacher (1855-1880); farmer (1880-1925); elected, delegate, Democratic State Convention (1884, 1888, and 1890); elected, auditor, Windsor Township (1 term); elected, school director; Windsor Township; elected to the Pennsylvania House of Representatives as a Democrat in 1888 and 1890; not a candidate for reelection to the House (1892); elected, Pennsylvania State Senate (1894-1901); died, December 6, 1925 in Windsor Township, York County, Pennsylvania; interred, Freysville Cemetery, Freysville, York County, Pennsylvania.