Joseph Wyatt
Joseph Wyatt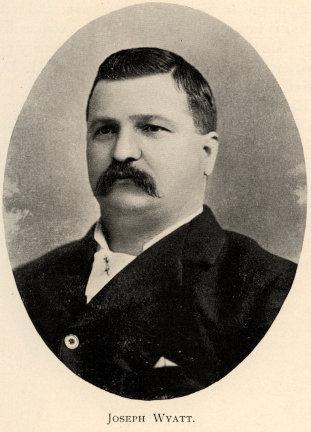 Photo credit:
McAtee, William, comp. Souvenir: Portraits and Biographies of the Members of the Legislature of Pennsylvania and Heads of Departments, Session of 1895. Harrisburg, Pa.: The Roshon Portrait Company, 1895.
Sessions
Sessions
Office
Position
District
Party
1895-1896
Representative
Republican
Counties
Schuylkill
Biography
01/01/1859 - 02/01/1941
WYATT, Joseph, a Representative from Schuylkill County; born, January 1, 1859 in Monmouthshire, England; coal miner; hoisting engineer; restauranteur and saloon keeper; elected, justice of the peace; elected as a Republican to the Pennsylvania House of Representatives in 1894; unsuccessful campaign for reelection to the House (1896); appointed, sergeant-at-arms, Pennsylvania House of Representatives (1897-1898); elected, sheriff, Schuylkill County (1918-1922); elected, chair, Schuylkill County Republican Committee (1919-1925); vice president, American Banking Trust Company of Mahanoy City; unsuccessful campaign, sheriff, Schuylkill County (1925); died, February 1, 1941 in Mahanoy City, Schuylkill County, Pennsylvania; interred, Odd Fellows Cemetery, Tamaqua, Schuylkill County, Pennsylvania.