Charles P. O'Malley
Charles P. O'Malley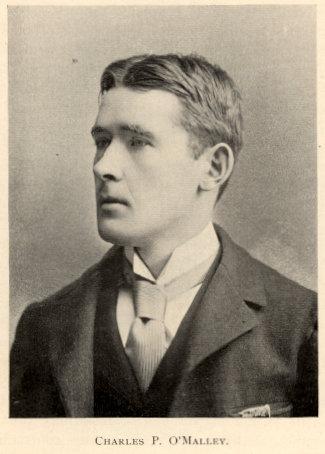 Photo credit:
McAtee, William, comp. Souvenir: Portraits and Biographies of the Members of the Legislature of Pennsylvania and Heads of Departments, Session of 1895. Harrisburg, Pa.: The Roshon Portrait Company, 1895.
Sessions
Sessions
Office
Position
District
Party
1895-1896
Representative
Republican
Counties
Lackawanna
Biography
07/16/1870 - 11/19/1953
O'MALLEY, Charles P., a Representative from Lackawanna County; born, July 16, 1870 in Olyphant, Luzerne County (now Lackawanna County), Pa.; attended, Wood's Business College, Scranton, 1888; miner; grocer; stenographer; teacher; elected, auditor, Olyphant; attorney-at-law (1894-1953); elected as a Republican to the Pennsylvania House of Representatives in 1894; not a candidate for reelection to the House (1896); died, November 19, 1953 in Scranton, Lackawanna County, Pennsylvania; interred, Saint Patrick's Cemetery, Olyphant, Lackawanna County, Pennsylvania.