Frank J. Grover
Frank J. Grover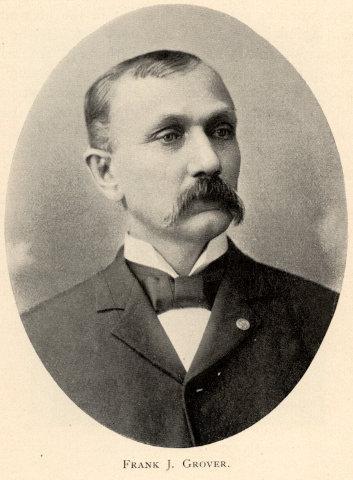 Photo credit:
McAtee, William, comp. Souvenir: Portraits and Biographies of the Members of the Legislature of Pennsylvania and Heads of Departments, Session of 1895. Harrisburg, Pa.: The Roshon Portrait Company, 1895.
Sessions
Sessions
Office
Position
District
Party
1895-1896
Representative
Republican
Counties
Lackawanna
Biography
06/20/1845 - 01/16/1899
GROVER, Frank J., a Representative from Lackawanna County; born, June 20, 1845 in Catasauqua, Northampton County, Pa.; attended, Allentown Seminary; graduated, Eastman Business College; sergeant, Company D, 153rd Regiment, Pennsylvania Volunteer Infantry (1862-1863, Civil War); time-keeper and paymaster, Grover & Miller, railroad contractors; proprietor, lumber business; building contractor; elected as a Republican to the Pennsylvania House of Representatives in 1894; unsuccessful campaign for reelection to the House (1896); died, January 16, 1899 in Moosic, Lackawanna County, Pennsylvania; interred, Greenwood Cemetery, Howertown, Northampton County, Pennsylvania.