Edelbert U. Eaton
Edelbert U. Eaton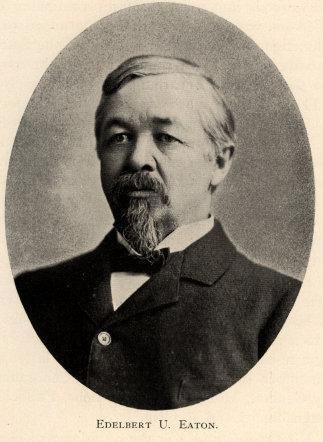 Photo credit:
McAtee, William, comp. Souvenir: Portraits and Biographies of the Members of the Legislature of Pennsylvania and Heads of Departments, Session of 1895. Harrisburg, Pa.: The Roshon Portrait Company, 1895.
Biography
08/17/1844 - 05/25/1915
EATON, Dr. Edelbert U., a Representative from Potter County; born, August 17, 1844 in Andover, Allegany County, NY; graduated, Alfred University, NY; graduated, University of Michigan; M.D., Buffalo Medical College, 1884; doctor; member, United States Examining Board; partner, Cobb & Chase, mercantile firm; elected as a Republican to the Pennsylvania House of Representatives in 1894; not a candidate for reelection to the House (1896); postmaster, United States Postal Service, Ulysses (1898); died, May 25, 1915 in Ulysses, Potter County, Pennsylvania; interred, Ulysses Cemetery, Ulysses, Potter County, Pennsylvania.