John B. Compton
John B. Compton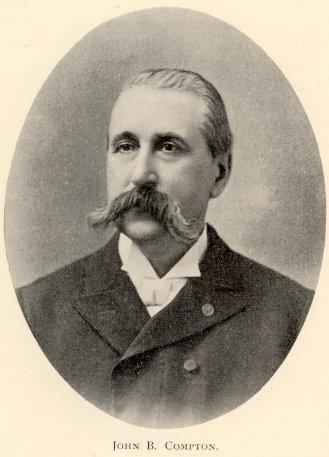 Photo credit:
McAtee, William, comp. Souvenir: Portraits and Biographies of the Members of the Legislature of Pennsylvania and Heads of Departments, Session of 1895. Harrisburg, Pa.: The Roshon Portrait Company, 1895.
Biography
11/17/1835 - 06/13/1898
COMPTON, John Brooks, a Representative from Crawford County; born, November 17, 1835 in Mead Township, Crawford County, Pa.; graduated, Meadville Academy; graduated, Allegheny College, 1861; sergeant, Company F, 83rd Regiment, Pennsylvania Volunteer Infantry (1861-1862, Civil War); colonel, aide-de-camp, Pennsylvania National Guard (1873-1890); lawyer (1868-1898); elected, prothonotary, Crawford County (1863-1866); elected, chair, Crawford County Republican Committee (1872, 1888-1889); elected, delegate, Republican State Convention (1873); elected, District Attorney, Crawford County (1881-1884); unsuccessful campaign, Pennsylvania House of Representatives (1874, 1892, 1896); elected as a Republican to the Pennsylvania House of Representatives for the 1895 term; unsuccessful campaign, recorder of wills, Washington DC (1897); died, June 13, 1898 in Mead Township, Crawford County, Pennsylvania; interred, Greendale Cemetery, Meadville, Crawford County, Pennsylvania.