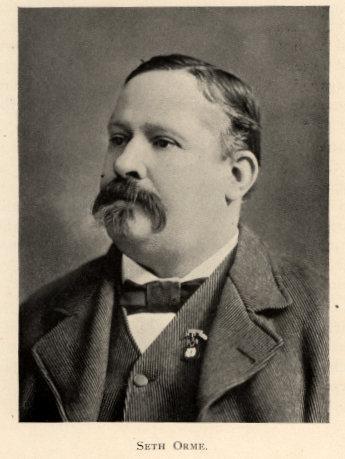 Photo credit:
McAtee, William, comp. Souvenir: Portraits and Biographies of the Members of the Legislature of Pennsylvania and Heads of Departments, Session of 1895. Harrisburg, Pa.: The Roshon Portrait Company, 1895.
Sessions
Sessions
Office
Position
District
Party
1895-1896
Representative
Republican
1897-1898
Representative
Republican
Counties
Schuylkill
Biography
11/08/1847 - 08/01/1898
ORME, Seth, a Representative from Schuylkill County; born, November 8, 1847 in Manchester, Greater Manchester, England; miner, Old Hickory colliery; cobbler; engaged, mercantile business; unsuccessful campaign, recorder, Schuylkill County (1874, 1878); elected, council, St. Clair, Pa. (1878-1879); vice president, Schuylkill County National Greenback Labor Party Convention (1880); postmaster, United States Postal Service, Saint Clair (1881-1885, 1889-1894); elected, council president, St. Clair (1885-1886); elected, delegate, Republican State Convention (1886, 1889); elected, school board, St. Clair; elected as a Republican to the Pennsylvania House of Representatives in 1894 and 1896; died while in office, August 1, 1898 in St. Clair, Schuylkill County, Pennsylvania; interred, Odd Fellows Cemetery, St. Clair, Schuylkill County, Pennsylvania.