Webster Clay Weiss
Webster Clay Weiss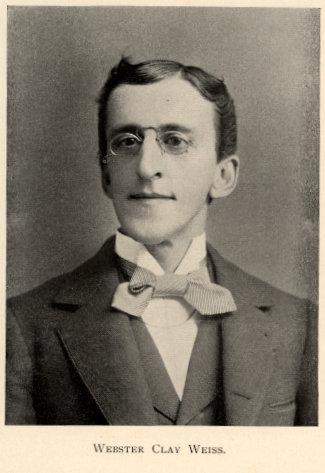 Photo credit:
McAtee, William, comp. Souvenir: Portraits and Biographies of the Members of the Legislature of Pennsylvania and Heads of Departments, Session of 1895. Harrisburg, Pa.: The Roshon Portrait Company, 1895.
Biography
09/23/1853 - 04/20/1943
WEISS, Webster Clay, a Representative from Northampton County; born, September 23, 1853 in Weissport, Carbon County, Pa.; appointed, major, paymaster of volunteers, United States Army Adjutant General's Department (1898-1899, Spanish-American War); mule driver; boating agent, Lehigh Coal and Navigation Company; elected, auditor, Carbon County (1874-1877); elected, school director, Weissport (3 years); elected, auditor, Weissport (3 years); elected, justice of the peace, Weissport (5 years); travelling sales agent, Whitney & Kemmerer; sales agent, Carbon Iron and Steel Company; unsuccessful campaign, burgess, Bethlehem (1891, 1894); elected as a Republican to the Pennsylvania House of Representatives in 1894 and 1896; not a candidate for reelection to the House (1898); died, April 20, 1943 in Fountain Hill, Lehigh County, Pennsylvania; interred, Fairview Cemetery, Philadelphia, Philadelphia County, Pennsylvania.