Alexander Thomas Connell
Alexander Thomas Connell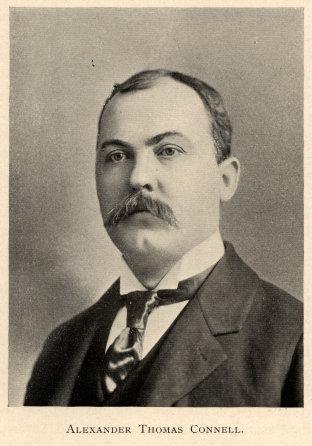 Photo credit:
McAtee, William, comp. Souvenir: Portraits and Biographies of the Members of the Legislature of Pennsylvania and Heads of Departments, Session of 1895. Harrisburg, Pa.: The Roshon Portrait Company, 1895.
Sessions
Sessions
Office
Position
District
Party
1895-1896
Representative
Republican
1897-1898
Representative
Republican
Counties
Lackawanna
Biography
06/13/1861 - 09/24/1947
CONNELL, Alexander Thomas, a Representative from Lackawanna County; born, June 13, 1861 in Lackawanna Township, Luzerne County (Lackawanna County), Pa.; attended, Wyoming Seminary (1880-1882); clerk, William Connell & Co.; bookkeeper; weigh master, general timekeeper and chief bookkeeper, Lackawanna Iron & Steel Company; elected, select council, Scranton (1891-1894); elected as a Republican to the Pennsylvania House of Representatives in 1894 and 1896; not a candidate for reelection to the House (1898); blasting powder manufacturer; elected, mayor, Scranton (1903-1906, 1918-1922); appointed, State Banking Law Commission (1917); unsuccessful campaign, mayor, Scranton (1925, 1929); chair, engineering department, city of Scranton; died, September 24, 1947 in South Abington Township, Lackawanna County, Pennsylvania; interred, Forest Hill Cemetery, Dunmore, Lackawanna County, Pennsylvania.