Clark T. Baldwin
Clark T. Baldwin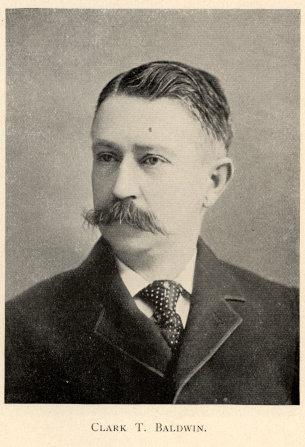 Photo credit:
McAtee, William, comp. Souvenir: Portraits and Biographies of the Members of the Legislature of Pennsylvania and Heads of Departments, Session of 1895. Harrisburg, Pa.: The Roshon Portrait Company, 1895.
Biography
10/12/1851 - 01/10/1932
BALDWIN, Clark Townsend, a Representative from Fayette County; born in Brownsville, Fayette County, Pa., October 12, 1851; elected, burgess, Bridgeport (now South Brownsville) (4 terms); storekeeper, United States Internal Revenue Service; elected, delegate, Republican State Convention (1893, 1894); elected as a Republican to the Pennsylvania House of Representatives for the 1895 and 1897 terms; not a candidate for reelection to the House for the 1899 term; member, Fayette County Republican Committee (13 years); elected, justice of the peace, Brownsville (1905-1920); died, January 10, 1932 in Brownsville, Fayette County, Pennsylvania; Interred, Bridgeport Cemetery, Brownsville, Fayette County, Pennsylvania.