Edward Powell Gould
Edward Powell Gould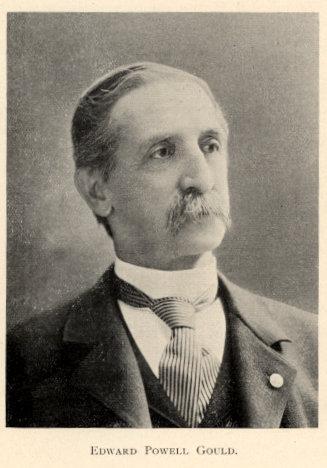 Photo credit:
McAtee, William, comp. Souvenir: Portraits and Biographies of the Members of the Legislature of Pennsylvania and Heads of Departments, Session of 1895. Harrisburg, Pa.: The Roshon Portrait Company, 1895.
Biography
03/06/1834 - 07/31/1914
GOULD, Edward Powell, a Representative from Erie County; born, March 6, 1834 in Springfield Township, Erie County, Pa.; graduated, University of Rochester, 1859; A.M., Albany Law School, 1863; L.L.B. Albany Law School, 1873; captain, Company E, 27th Regiment, New York Volunteer Infantry (1861-1863, Civil War); recruiter, United States Army, Western New York region (1863-1865); attorney-at-law (1867-1914); chief clerk to the Secretary of State, New York (1872-1873); trustee, Soldiers' and Sailors' Home of Erie; elected as a Republican to the Pennsylvania House of Representatives for the 1895 and 1897 terms; appointed, Committee to Investigate the Norristown and Wernersville Insane Hospitals; unsuccessful campaign for reelection to the House (1898); died, July 31, 1914 in Erie, Erie County, Pennsylvania; interred, Erie Cemetery, Erie, Erie County, Pennsylvania.