Henry S. Funk
Henry S. Funk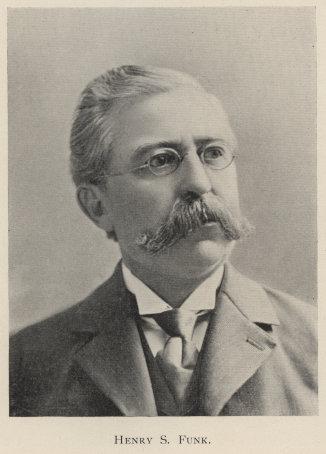 Photo credit:
McAtee, William, comp. Souvenir: Portraits and Biographies of the Members of the Legislature of Pennsylvania and Heads of Departments, Session of 1895. Harrisburg, Pa.: The Roshon Portrait Company, 1895.
Biography
12/23/1844 - 01/03/1937
FUNK, Henry Schleiffer, a Representative from Bucks County; born, December 23, 1844 in Springtown, Bucks County, Pa.; proprietor of saw and flouring mills; farmer; justice of the peace; postmaster, United States Postal Service, Springtown (1884-1885, 1889-1893); founder and publisher, Springtown Times (1885-1915); established, Globe Mutual Live Stock Insurance Company (1887); secretary and director, Quakertown and Eastern Railroad Company; president, Keystone Manufacturing Company; elected to the Pennsylvania House of Representatives as a Republican in 1894 and 1896; not a candidate for reelection to the House (1898); president, Franklin Telephone Company; director, Quakertown Trust Company; died, January 1, 1937 in Springfield Township, Bucks County, Pennsylvania; interred, Springtown Cemetery, Springtown, Bucks County, Pennsylvania.