William Thomas Zehnder
William Thomas Zehnder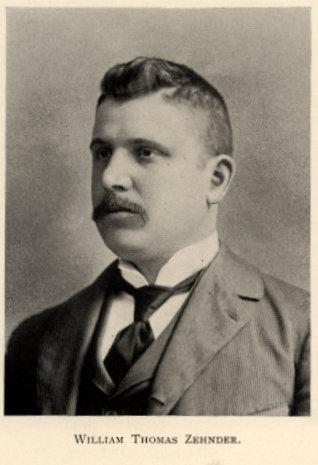 Photo credit:
McAtee, William, comp. Souvenir: Portraits and Biographies of the Members of the Legislature of Pennsylvania and Heads of Departments, Session of 1895. Harrisburg, Pa.: The Roshon Portrait Company, 1895.
Biography
10/05/1867 - 06/05/1926
ZEHNDER, William Thomas, a Representative from Philadelphia County; born, October 5, 1867 in Philadelphia, Philadelphia County, Pa.; employed, A. J. Reach & Co.; clerk, John F. Betz & Son, Limited; elected as a Republican to the Pennsylvania House of Representatives for the 1895 and 1897 terms; not a candidate for reelection to the House for the 1899 term; restaurant and saloon owner; proprietor, retail liquor store; died, June 5, 1926 in Philadelphia, Philadelphia County, Pennsylvania; interred, Hillside Cemetery, Roselyn, Montgomery County, Pennsylvania.