Charles H. Duttera
Charles H. Duttera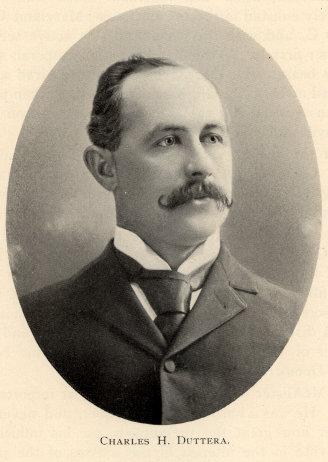 Photo credit:
McAtee, William, comp. Souvenir: Portraits and Biographies of the Members of the Legislature of Pennsylvania and Heads of Departments, Session of 1895. Harrisburg, Pa.: The Roshon Portrait Company, 1895.
Biography
07/09/1859 - 12/24/1943
DUTTERA, Charles H., a Representative from Adams County, born, July 9, 1859 in Germany Township, Adams County, Pa.; engaged in tanning business; farmer; quarry owner; engaged in real estate; engaged in coal business; elected to the Pennsylvania House of Representatives as a Democrat in 1894 and 1898; unsuccessful campaign for reelection to the House (1896); not a candidate for reelection to the House (1900); died, December 24, 1943 in Baltimore, Maryland; interred, Mount Carmel Cemetery, Littlestown, Adams County, Pennsylvania.