John F. L. Morris
John F. L. Morris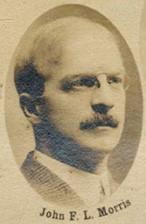 Photo credit:
Hudson, Sam. Pennsylvania and It's Public Men. Philadelphia: Hudson & Joseph, 1909
Biography
09/21/1866 - 01/26/1939
MORRIS, John F. L., a Representative from Philadelphia County; born in Manayunk, Philadelphia County, Pa., September 21, 1866; graduated, Cornell University; graduated, Dickinson College School of Law (now Penn State Dickinson Law), 1891; elected, common council, Philadelphia (1903-1906); member, 21st Ward Republican Committee; elected as a Republican to the Pennsylvania House of Representatives in 1908 and 1910; unsuccessful campaign for reelection to the House (1912); employed, Ginn and Co., publishers; trustee, Free Library of Philadelphia; died, January 26, 1939 in Philadephia, Philadelphia County, Pennsylvania; interred, Westminster Cemetery, Bala Cynwyd, Montgomery County, Pennsylvania.