John Robert Jones
John Robert Jones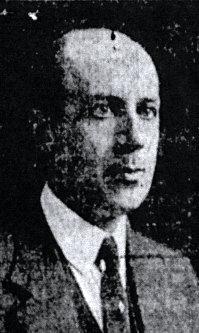 Photo credit:
"Constitution Safe With Jones On Job." Harisburg Telegraph [C.H. Bergner] 24 Jun. 1913, 8.
Sessions
Sessions
Office
Position
District
Party
1911-1912
Representative
Republican
1913-1914
Representative
Republican
Counties
Schuylkill
Biography
04/04/1878 - 08/20/1963
JONES, John Robert, a Representative from Schuylkill County; born in Schuylkill Haven, Schuylkill County, Pa., April 4, 1878; graduated, Franklin and Marshall College, 1902; lawyer; elected as a Republican to the Pennsylvania House of Representatives to the 1911 and 1913 terms; unsuccessful campaign for reelection to the House for the 1915 term; special corporation clerk, office of Pennsylvania Auditor General (1920-1921); appointed, Assistant United States Attorney, Philadelphia (1921-1923); appointed, Deputy Attorney General, Pennsylvania Attorney General's office (1923-1925); judge, Municipal Court, Philadelphia (appointed, 1939; elected, 1939-1959); died, August 20, 1963 in Philadelphia, Philadelphia County, Pennsylvania; interred, Schuylkill Haven Union Cemetery, Schuylkill Haven, Schuylkill County, Pennsylvania.