Ward R. Bliss
Ward R. Bliss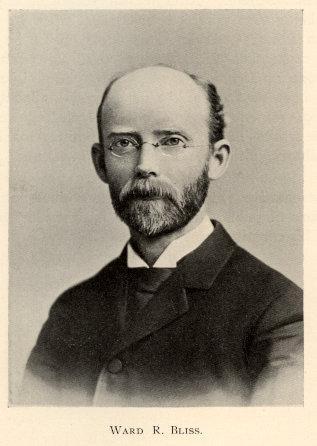 Photo credit:
McAtee, William, comp. Souvenir: Portraits and Biographies of the Members of the Legislature of Pennsylvania and Heads of Departments, Session of 1895. Harrisburg, Pa.: The Roshon Portrait Company, 1895.
Biography
12/15/1855 - 01/06/1905
BLISS, Ward Raymond, a Representative from Delaware County; born in Lewisburg, Union County, Pa., December 15, 1855; graduated, Lewisburg (Bucknell) University, 1874; teacher; lawyer; publisher and editor, The Weekly Reporter; owner and editor, Delaware County Republican (1882-1893); chair, Delaware County Republican Committee (1887); elected as a Republican to the Pennsylvania House of Representatives for the 1889 term; reelected to serve 8 consecutive terms thereafter; elected, Majority Leader (1903-1904); died while in office, January 6, 1905 in Philadelphia, Philadelphia County, Pennsylvania; interred, Lewisburg Cemetery, Lewisburg, Union County, Pennsylvania.
 
 
 

Bibliography
 
Bliss, Ward R., Digest of the Special Laws Relating to Delaware County. (Edited Publication)
 
Bliss, Ward R., Delaware County Reports (eight volumes). (Edited Publication)