Harry W. Bass
Harry W. Bass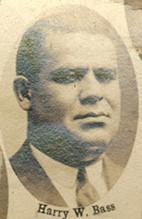 Photo credit:
"Harry W. Bass." The Pittsburgh Press [s.n.] 26 Jan. 1913, 11.
Biography
11/04/1866 - 06/09/1917
BASS, Harry W., a Representative from Philadelphia County; born, November 4, 1866 in West Chester, Chester County, Pa.; graduated, Lincoln University, 1886; attended, Howard University; graduated, University of Pennsylvania Law School, 1896; lawyer; unsuccessful campaign, Pennsylvania House of Representatives (1896, 1898); elected as a Republican to the Pennsylvania House of Representatives for the 1911 and 1913 terms; appointed, Commission to Arrange 50th Anniversary of Emancipation Proclamation (1911-1912); not a candidate for reelection to the House for the 1915 term; died, June 9, 1917 in Philadelphia, Philadelphia County, Pennsylvania; interred, Chestnut Grove Cemetery, West Chester, Chester County, Pennsylvania.