Charles C. Kessler
Charles C. Kessler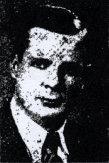 Photo credit:
"Charles C. Kessler Seeks Election to State Assembly." The Progress [Progressive Publishing Co.] 01 Mar. 1954, 1.
Sessions
Sessions
Office
Position
District
Party
1949-1950
Representative
Republican
Counties
Clearfield
Biography
07/21/1915 - 12/28/2006
KESSLER, Charles Calvert, a Representative from Clearfield County; born in Sandy Township, Clearfield County, Pa., July 21, 1915; attended, DuBois Business College; served, United States Navy (1945, World War II); public accountant; resident manager, Frank C. Gabell and Co., DuBois; elected as a Republican to the Pennsylvania House of Representatives by Special Election, November 17, 1949 to serve the remaining 1949 term; Sworn-In, January, 11, 1950; not a candidate for reelection to the House for the 1951 term; died, December 28, 2006 in Pennsylvania.